We're excited to share that our redesign of the Intuit Trends application has just launched! Intuit Trends is a free online application that lets small businesses compare how they are doing financially (such as income, expenses, profits, etc.) with other businesses that are similar to them. We talked with small business owners to find out what they most wanted to understand about how their businesses compared to their peers/competitors, and then introduced some big improvements to the previous design. This release delivers the first preliminary round of changes, and there are many more to come. Key features of our redesign effort included in this preliminary release are:
Introduced a new, personalized Scorecard
Before the redesign, the Trends application only offered small businesses the ability to view general trends about how their peers and competitors were doing. Now, small business owners can also see how their own company compares to their peers along three key business metrics and receive individual and overall scores.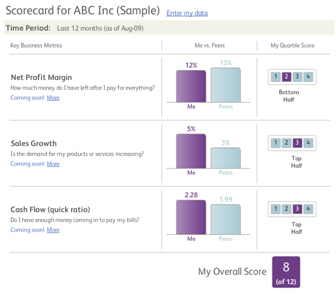 Provided a simple bar chart and scoring solution
Now that the site was going to show comparisons between a specific business and its peers, we needed a compelling way to present this information. To get started, we explored a variety of different design options for how best to show comparison data. Next, we usability tested our ideas and moved forward with the design that users liked best. Our final solution combined a simple bar chart with a visual quartile score, in a format that was easy for scanning.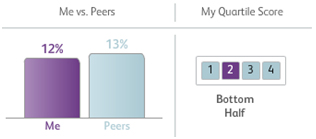 Created a clean, fresh, and consistent visual design
We all know that it is important for information on a site to not only be useful, but to also be presented in a clear, visually appealing way. To help the Trends site appeal to its audience and convey the desired tone, we created a modern, clean look and feel for the site that also followed Intuit's brand guidelines. We also introduced a consistent color scheme to use for "Me" and "Peers" across the site to help users differentiate between the two types of data.
 

You can check out our redesign for yourself at: https://workplace.intuit.com/db/bejqb2kpn. We'd love to hear what you think!
Share this: