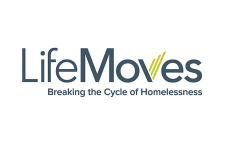 Breaking the cycle - one workshop at a time
LifeMoves is an organization that provides housing and social services to unhoused families in the Bay Area. They approached us to help design a service to educate donor families about how and why people become unsheltered and what LifeMoves does to help. The target audience was kids from age 7-16 with their parents so we knew it was important to be engaging and informative. We began by creating an in-person workshop and then extended it to a digital offering as a second phase.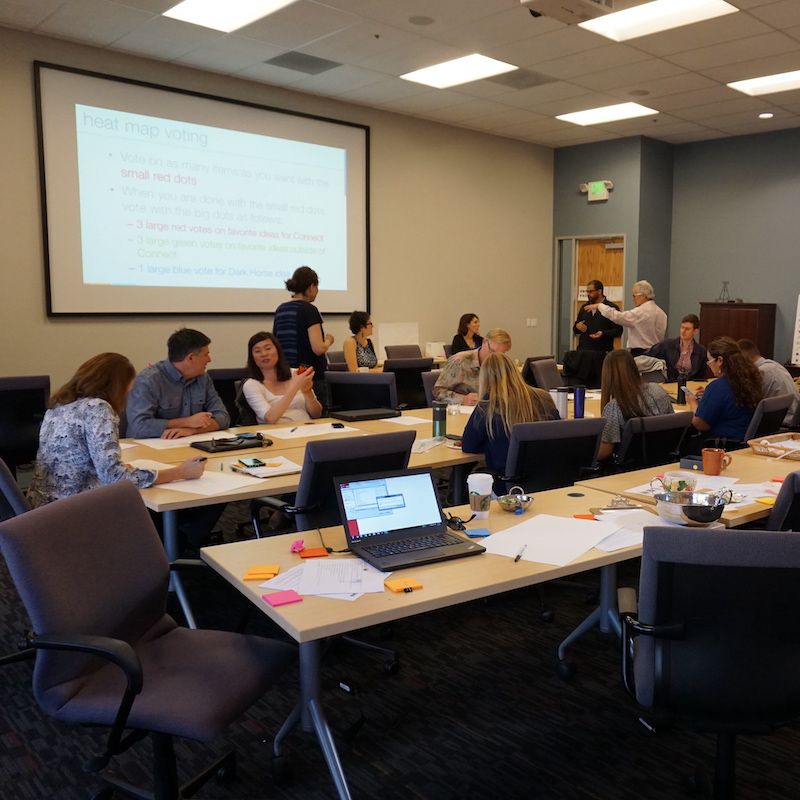 How involved do donors want to be?
LifeMoves was curious about what inspires people to get involved with charitable organizations. We talked to some of the high-level donors to learn more about how they'd like to be more involved with the organization's community. We also interviewed parents and kids about their experience with learning about social action opportunities and hosted a participatory brainstorm with some families.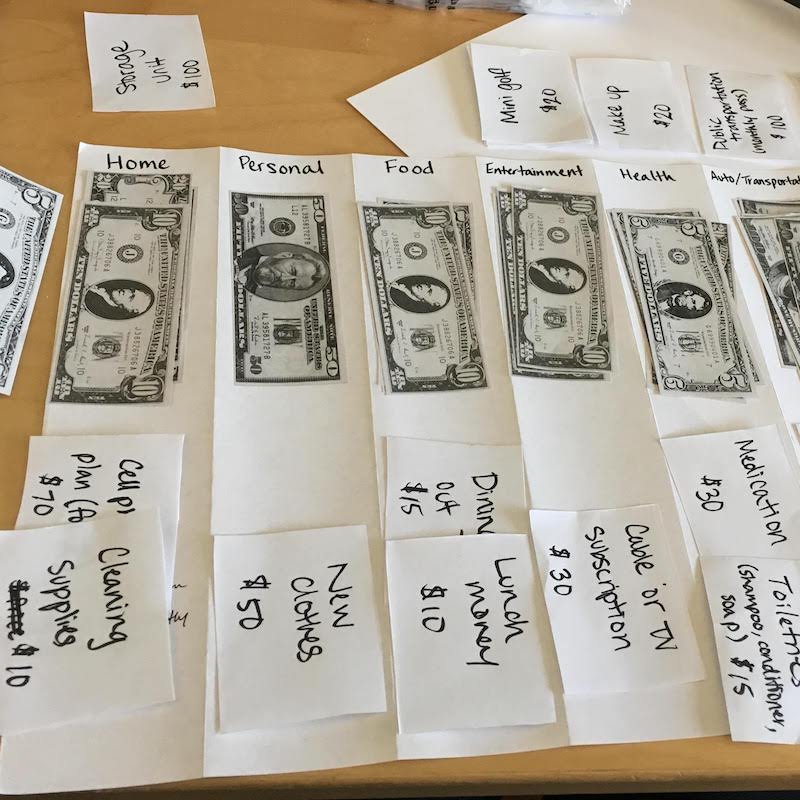 Time to break out the crafting supplies!
As a first step, we thought about what sorts of activities would be kid-friendly. Crafts, short videos, and engaging presentations were important, as well as getting up and running around to break up the monotony of sitting. We sat down and started sketching ideas for presentation stories, games, and take-home activities.
Keeping the goals of the workshop in mind, we came up with a list of things that could work for our young audience. The most popular activities were:
Budgeting game: kids plan a real budget with play money to understand first hand the cost of living in the Bay Area.
High impact video: kids watch a video about a LifeMoves family shown from the kid's perspective to reduce stereotypes around unsheltered people.
Costs of liiving: kids understand the expense of living in the Bay Area versus other parts of the country and California through an illustrated presentation.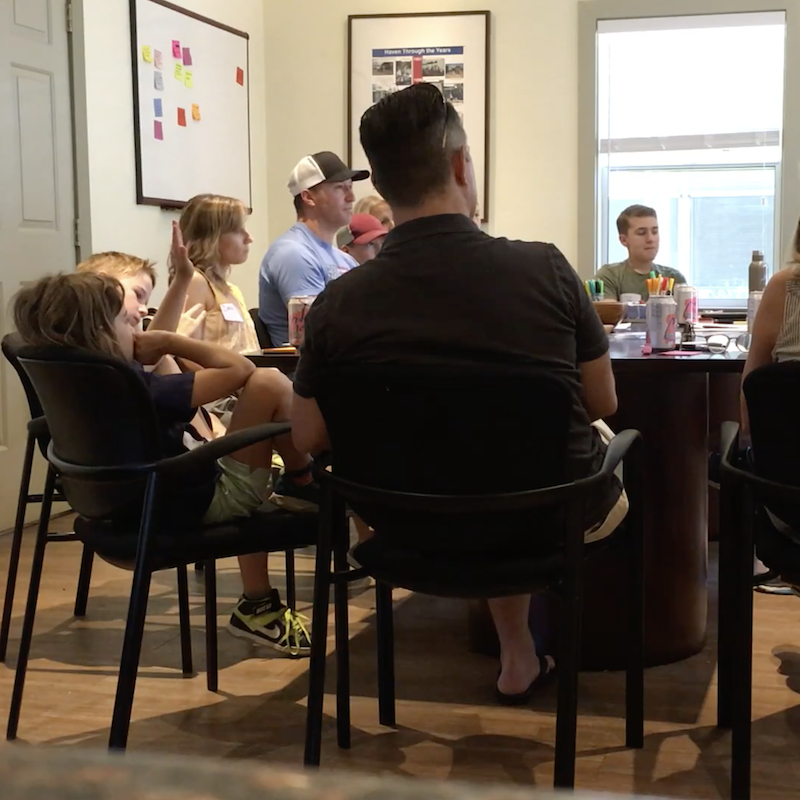 Bring the whole family!
We held two prototype workshops with family friends to test out the activities and figure out the right timing and flow. After each session, we received feedback from the families and debriefed with LifeMoves to cut down and reorder some of the activities.
After the prototype workshops were complete, we launched the first official workshop with 4-5 of the donor families.
There were two big successes from the workshops:
The kids enjoyed handling and creating a budget with the help of their parents, working together to decide on what essentials and non-essentials to buy.
The illustrated presentation kept the kids engaged in a story while still learning the facts and numbers involved in the Bay Area's cost of living.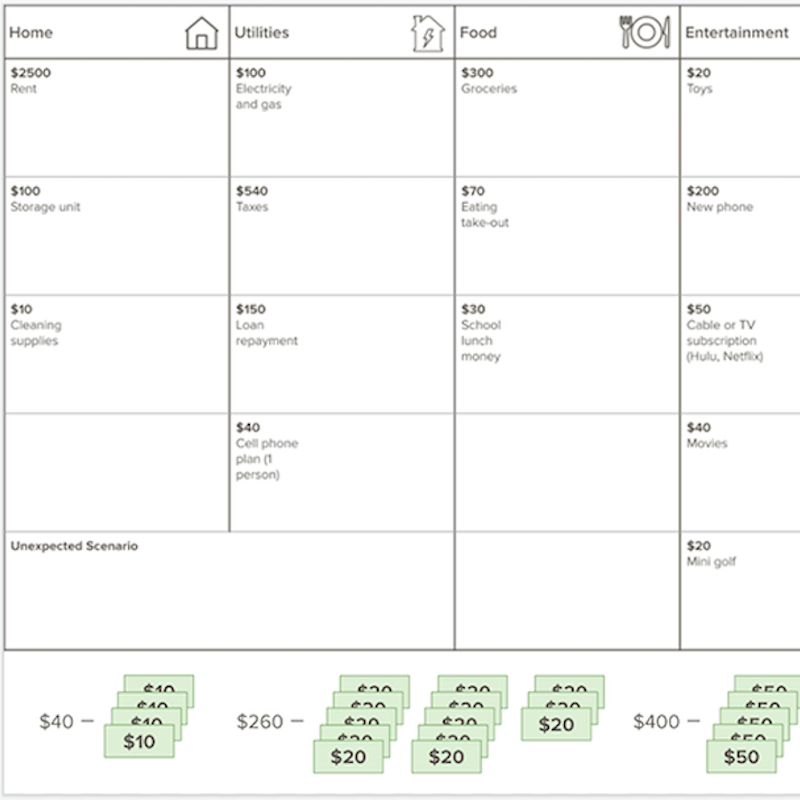 The COVID move to virtual.
A few months into the pandemic, LifeMoves reached out to us to discuss ideas around moving the workshop to be a remote activity.
We divided the workshop into two parts: at home asynchronous and on Zoom synchronous. Families would received instructions on activities they can do at home with discussion prompts to do amongst themselves. Then they'll meet with LifeMoves on Zoom to have another discussion and to do the budgeting game.
We turned the budgeting game into an online game with Google slides so participants can play it remotely during the workshop. You can try it yourself here.
The Results
LifeMoves continues to host these (virtual) workshops where they educate families on homelessness in the Bay Area and offer ideas on how to get involved with the LifeMoves community. If you and your family want to get involved, check out their website.